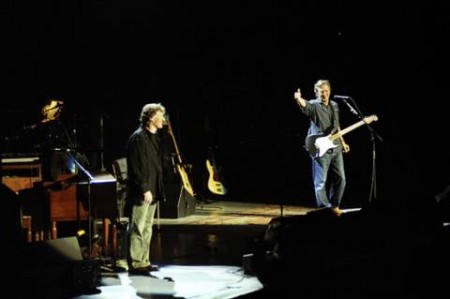 USA TODAY: Clapton, Winwood finally find their way home
By Elysa Gardner
USA Today
Location: Madison Square Garden, New York
Attendance: A sellout crowd of 18,000
February 25th, 2008
The event: The former Blind Faith bandmates paired up Monday night for the opening of a three-show gig at the Garden, their first full concerts together in almost 40 years. When Winwood and Clapton appeared last July at the Crossroads Guitar Festival in Chicago, it was the first time they'd been on stage together since 1982.
The crowd: A classic rock audience, heavy on boomers, with a smattering of kids and families.
Rock on: Mary Pat Glauber, 48, of St. Louis, surprised her husband Jim, 50, with tickets. "My wife is going through a midlife crisis," Jim jokes. "She isn't," protests son Kevin, 15, who wore his Grateful Dead T-shirt and "appreciates incredible guitarists," says his mom. "We've never done anything like this before," says Jim. "It's very exciting. This is our first trip to Manhattan."
"We love the blues," says Hector Florencia Jr., 46, of Rockwall, Texas, who brought his kids Hector III, 11, and Giovanna, 13. "Eric Clapton is an icon — and also an example of how someone can recover from drugs and alcohol."
Up first: The musicians, who formed Blind Faith after Cream and Traffic dissolved, opened the show with Had to Cry Today, from the 1969 supergroup's sole, self-titled album. Vocally, Winwood took the lead with his keening tenor and embellished Clapton's muscular riffing with his own lyrical guitar work. Winwood was again at the fore on Blind Faith's Presence of the Lord.
No chitchat: The two largely limited their banter to thank-yous and polite acknowledgements of the crowd, preferring to let the music do the talking. Finally, Clapton told fans: "I've been looking forward to it for a very long time. I think we're enjoying it — I'm enjoying it, so I hope you are."
Boomer chic: Dressed casually but neatly in jeans and untucked, button-front shirts, Clapton, 62, and Winwood, 59, made no attempt to look like rock bad boys. In fact, they looked pretty much like their middle-aged fans.
Dual guitars: The two harmonized and shared bluesy guitar interplay on Low Down, clearly relishing the camaraderie on stage.
Lots of Jimi Hendrix: Changes, Little Wing (trading off vocals) and a lengthy version of Voodoo Chile. Another key cover: Winwood on Ray Charles' signature Georgia on My Mind.
Interesting instrumental: Traffic's Pearly Queen.
The Clapton catalog: Clapton played flamboyant lead guitar for his own Forever Man, with Winwood on exuberant keyboards. What really got the fans roaring: The same teaming on After Midnight.
Winding down: Near the end, two big crowd-pleasers — Blind Faith's Can't Find My Way Home and Traffic's Dear Mr. Fantasy, which became both a showcase for Winwood's virtuosity and a friendly guitar skirmish, with the two axemen swapping riffs.
Last song of the night: Crossroads.
The merchandise: Cheaper choices included $5 buttons, $15 coffee mugs and $25 knit skull caps. Programs were surprisingly reasonably priced at $20. On the higher end: a $75 black hooded sweatshirt with white lettering.
Next dates: They're back at the Garden on Tuesday and Thursday nights.