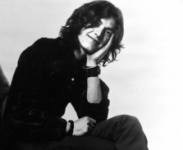 Fillmore East Review: New York Times, April 28, 1968
Traffic, a British Trio, Flows With Subtlety at Fillmore East
New York Times, April 28, 1968
By Robert Shelton
Several varieties of pop experience were available last night at the first of four weekend concerts at Fillmore East, Second Avenue at Sixth Street. Appearing were Traffic, a British trio; Blue Cheer, a threesome from San Francisco, and Iron Butterfly, a quartet from Los Angeles.
To this listener, the work of Traffic was the most appealing and the most developed of the evening. The three Britons were intent upon bringing warmth, melody, and vocal expressiveness back to the pop scene. Traffic's Members have the technique and splash to outdo any challenger in electronic effects or wild, orgiastic sound. But the broup preferred to gravitate toward subtle statement, musical structure, and building some patterns that make logic rather than just jolt.
The central figure of Traffic is Steve Winwood, a gifted 19-year-old who brings a Ray Charles-like voice, a supple organ style and a fluent guitar manner with him. Jim Capaldi and Chris Wood gave him excellent support. British musicians continue to be style-setters and the visit of Traffic is especially welcome.
Blue Cheer has been influenced, it would appear, by Cream, another English trio. The San Franciscans are freneticists who can't seem to calm down. There is technique to spare here, but the level of amplification was painful. While being astonished at the sheer forcefulness of the group, one wanted some relief of dynamics and tension.
Iron Butterfly was also mainly on a psychedelic-rock "heavy" tangent with full phalanxes of sound roaring from the stage. The group went out with a production number that sounded and looked like a plane crash, with four fires on stage. Unfortunately it was about as uncomfortable as a crash, but how else does an Iron Butterfly depart? The Joshua Light Show was illuminating.