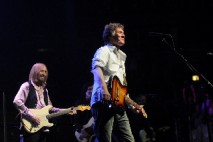 Steve to Tour With Tom Petty & The Heartbreakers
January 25th, 2008
STEVE WINWOOD JOINS TOM PETTY & THE HEARTBREAKERS FOR MAJOR SUMMER TOUR ACROSS THE U.S. AND CANADA
TICKETS GO ON SALE FEBRUARY 4, 2008
January 25, 2008 - Legendary musician STEVE WINWOOD will join TOM PETTY & THE HEARTBREAKERS on an upcoming tour through the U.S. and Canada. Most tour tickets will go on sale February 4th, the day after Tom and the Heartbreakers perform at the Super Bowl. For more information, fans can go to stevewinwood.com, tompetty.com or purchase tickets at ticketmaster.com.
Winwood, slated to open every show, will perform songs from Nine Lives, his highly anticipated new studio album. Nine Lives, slated for release on Tuesday, April 8, represents Winwood's first effort for Columbia Records, his new label. The tour with Tom Petty and the Heartbreakers will come on the heels of Winwood's historic performances at Madison Square Garden on February 25, 26 and 28, 2008. Tickets for all three of these shows-which pair Winwood with former Blind Faith bandmate Eric Clapton-sold out within minutes of their release.
Winwood has logged one of the most esteemed careers of the rock era, spanning more than 40 years. As a solo artist and as a member of such celebrated bands as the Spencer Davis Group, Traffic and Blind Faith, Winwood has established himself as nothing short of a musical force, with chart-topping and platinum-selling albums, numerous Grammy awards, and collaborations with everyone from George Harrison and Jimi Hendrix to Muddy Waters and John Lee Hooker. Steve Winwood has truly done it all.
Tom Petty and the Heartbreakers released their debut album in 1976. Since that time they have sold more than 50 million records. Between the Heartbreakers' recordings and his solo work, Tom Petty has received 18 Grammy nominations. Honored with lifetime achievement awards including Billboard's Century Award, MTV's Video Vanguard Award, and induction into the Rock and Roll Hall of Fame, Tom Petty, with the Heartbreakers at his side, has achieved the status of rock and roll icon among his fellow musicians and listeners worldwide. For more information on Tom Petty and the Heartbreakers, their upcoming tour, and the Highway Companions Fan Club please visit www.tompetty.com and www.highwaycompanions.com.