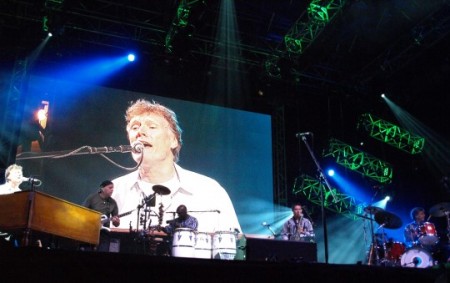 Berklee Honorary Award Interview
Higher education; Steve Winwood gettin' some lovin' from Berklee.

The Boston Herald, May 6, 2008
By Jed Gottlieb
At long last, Steve Winwood has been vindicated. A paltry 45 years after getting booted from music school for claiming "Roll Over Beethoven" was as awesome as, well, Beethoven, Winwood - who turns 60 on Monday - is getting his degree. Not from his former school in Birmingham, England, but from Berklee College of Music.
Two days after his sold-out Berklee Performance Center gig Thursday, Winwood will receive an honorary doctorate of music at Berklee's commencement ceremony along with fellow honorees Philip Bailey and Maurice White of Earth, Wind & Fire; "The Lord of the Rings" composer Howard Shore; and Brazilian artist Rosa Passos.
No word on whether Winwood and EWF (or Howard Shore) will be crashing Wally's for an after-hours jam. But Winwood, at least, will be back opening for and jamming with Tom Petty and the Heartbreakers (on June 13 at TD Banknorth Garden and June 14 at the Tweeter Center, Mansfield).
"As someone who left home and school at age 15, I'll take anything I can get," Winwood said of the Berklee honors from his home studio in Gloucestershire. "I did go to music college for a little while. Music education in Europe at that time, in the late '50s, early '60s, was quite different than it is in the United States today. Anything other than serious music was considered quite frivolous.
"Handel and Bach was the musical heritage of Europe," he continued. "But at the time I was going to school, the American musical heritage was becoming Chuck Berry. One day I was brought to principal's office and asked what I liked. I said Stravinsky, but also said Chuck Berry, Fats Domino and Ray Charles. I was told to forget about that or leave."
For Winwood, it was an easy choice. At 14, he was already gigging in local blues and jazz clubs. Just a year later, he would join his bass-playing older brother, Muff Winwood, in the Spencer Davis Group and go on to co-write monster hits "Gimme Some Lovin' " and "I'm a Man."
"I had some pocket money so I thought, `Thanks very much, but I'm leaving,' " he said. "Now it's possible, you can do a degree on Fats."
Well, at least at Berklee it is.
If you ignore the whole flunking out of music school thing, Winwood's an ideal candidate for a Berklee doctorate. After graduating from the r & b of the Spencer Davis Group, he founded Traffic, an experimental band that covered almost everything in Berklee's curriculum from rock, blues and pop to jazz, folk and world.
Now, after a decade-plus diversion that pulled him toward adult contemporary, Winwood has spent time returning to his roots. His new album, "Nine Lives," is a summation of his musical incarnations that mixes his '70s experiments with his '80s pop and, with an impressive guitar cameo by Eric Clapton, also nods to his short-lived '60s supergroup Blind Faith.
Think of "Nine Lives" as a dissertation on "The History and Evolution of the music of Steve Winwood." Winwood's old school masters probably wouldn't think of it that way. But, hey, if they still can't get into "I'm a Man," does anyone care what they think?