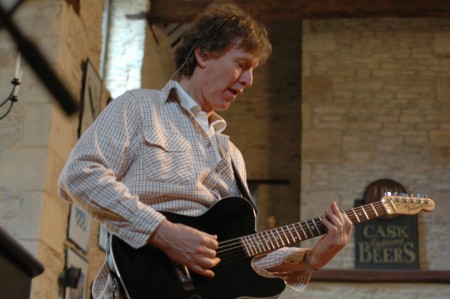 Interview: Changing Tastes, Newcastle Journal October 6th, 2008

"Culture: The same, but different; Steve Winwood will be giving us some lovin' tonight - but nothing like we've had before. Barbara Hodgson talks to the singer-songwriter about changing tastes."
The Journal (Newcastle, England)
October 6, 2008
The same but different could sum up Steve Winwood's approach to going back on the road again.
That tour road is certainly a much-travelled one for the man whose 40-year career has taken in groundbreaking bands the Spencer Davis Group and Traffic, collaborations with artistes ranging from Eric Clapton to Christina Aguilera and solo success. Now 60, he's on his Nine Lives tour - named after his new album - which brings him to The Sage Gateshead tonight.
"This isn't a very long tour," he points out. "But there are two sides to touring: one is the playing music and one is getting there!"
"So we try to make it work for us."
This means that he likes to slot in a few days back home with his family in Gloucestershire, in between gigs.
"I've never played The Sage before," he adds. "But I've heard all about it and I'm looking forward to it."
Fans will be too because, alongside the new stuff will be much-loved favourites - such as Gimme Some Lovin' - but with a twist.
"We try to keep the music interesting," he explains.
"We'll be doing songs from Nine Lives and we rearrange some of our old songs - we might give them more jazz or rock."
"We'll do songs from very early on in the Spencer Davis Group, Traffic songs, solo stuff from the 80s.
"And to some extent we rearrange them all.
"There's quite a large body of music we can draw from."
That's no exaggeration. He started out as a 15-year-old singer in the Spencer Davis Group in the early 60s where he co-wrote and recorded its signature hits Gimme Some Lovin' and I'm A Man.
The psychedelic rock group diversified their sound (Winwood plays an assortment of instruments) and then there followed bands Traffic - which re-released Gimme Some Lovin' in a live, nine-minute version in 1971 - and Blind Faith before he went solo.
Nine Lives expands on the many changing phases.
Explaining its title, he says: "It's nine songs and my ninth album: a bit like nine unrelated short stories from a book.
"It's nothing to do with using up my nine lives or that there aren't things to come," he laughs.
"Hopefully there'll be a 10th!"
That too will offer something new as Steve is nothing if not versatile, mixing and matching the musical styles with a deftness nothing short of inspired.
When I ask about Brazilian influence on his work, he says: "I've been working with Jose Neto (a Brazilian guitarist) for 10 years.
"He grew up in Brazil and, interestingly enough, his influences, as well as Brazilian music, were of Jimi Hendrix and Led Zeppelin who just lived an hour away from me."
It inspired a collection of work combining those different elements - and more.
"We try to mix all these ingredients; some folk, some jazz, a bit of Celtic music."
"It's something I've always strived to do since the early days of Traffic after I left the Spencer Davis Group.
"Our band had tried to copy music we had heard like R&B and blues.
"We copied things in order to try to bring the new music we'd discovered to a wider audience but, after that, toward the end of the Spencer Davis Group, I kind of started developing my own take on that music."
Then he joined Traffic, joining forces with Eric Clapton, for a short-lived spell of inventive music brought to a close with the 1974 hit When the Eagle Flies.
"I wanted to combine all these elements of music at a time when there was no such thing as world music.
"I'm still doing the same thing now, 40 years later!"
He has teamed up with Clapton again who plays on Nine Lives gritty track, Dirty City.
The pair met up last year, then again in February to play at Madison Square Garden in New York.
"We've worked together a long time," says Winwood.
"We strayed apart but in the last couple of years we got back together and started new things.
"With Nine Lives, it just occurred to me that it would be great for Eric to play on.
"I asked him and he immediately agreed. I said, 'Do you want to listen to the song first?' and he said no.
"He's kind of like me: he just wants to go, hear it for the first time and play. Just like me; I just like to play my reaction."
"There's a freeness about that. If you know something inside out, you can know it too well."
Is the song about any particular city?
"No, not really," he says. "It's about any city problems which a lot of parents face and how we, and our children, deal with them."
Being a father of four has coloured his work, he admits and says of his family: "They're all musical.
"I listen to their opinions about music. They might be too polite to say about mine but they like some better than others!"
Steve works in schools, helping give young people a freedom he never enjoyed.
"At school, although I liked music, it wasn't the music I was supposed to like," he explains.
"It's not like that now - students are in rock bands - but in the early 60s no headmaster would allow rock."
He thinks it was because rock was associated with rebelliousness and massive social change.
"I think rock and roll was an accompaniment to massive change but hasn't necessarily caused it."
"I came to it as a musician which is slightly different in as much as what was interesting to me was the different combinations that made music."
Someone once told him there is a big difference between musicians and music lovers.
He says: "My wife is a music lover and listens to music in the kitchen and in the car. But I don't really listen to music for fun or enjoyment.
"I listen to see what I can get out of it and how other people are doing things."
Is there any type of music he couldn't get something out of?
"I can't see using rap," he says, but then adds he's currently thinking about Sixth and Seventh Century music.
"It's a bit like monks chanting melodies. I'm finding that quite interesting," he says.
Steve Winwood plays Hall One of The Sage Gateshead tonight at 7.30pm